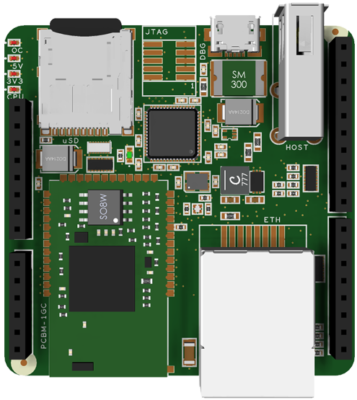 Quadro Platform
PCBM-1GC
PCBM-1GC is a compact form factor dual band Wi-Fi module with microcontroller and memories embedded. The module is an embedded network controller solution for consumer grade applications. It is enabled with Cypress Wireless Internet Connectivity for Embedded Devices (WICED) architecture. They host the Wi-Fi, TCP/IP network stack, security supplicant, and other network application features.
The PCBM-1GC Module help developers create IoT applications by integrating a dual band wireless LAN (Wi-Fi). There is already libraries provided to support for necessary protocols, offering connectivity to leading cloud services, enabling interoperability with the existing ecosystem, and providing the flexibility to work with popular MCUs.
Back to products
Feature #1
Wi-Fi SoC module: Cypress CYW43907
Based on Arm® Cortex® 32bit R4-based applications process with built-in antenna for minimal external components and a great number of peripheral embedded in the SoC.
Feature #2
Cypress WICED® Studio
Easy firmware development with the free of charge programming tool from Cypress with examples and drivers specifics for PCBM-1GC module.
Feature #3
Easy to integrate
The module is small but easy to integrate in the final carrier thanks to a dual solder solution that allow to use the essential connections present in the outer of module or the optional high speed signals present in the ball grid under the module itself.
Feature #4
Arrow distributed
The wireless module is distributed globally by Arrow Electronics.
Informations
Partner
Murata, Cypress, Arrow
Technology core
Cortex-R4
Hardware
Processor
ARM Cortex-R4
Chipset Cypress CYW43907
Wireless connectivity
2.4GHz & 5GHz Wi-Fi / Ethernet WiFi and MCU
2.4GHz & 5GHz (from 2.400 GHz to 5.825 GHz)
802.11a/b/g/n
Wired connection
SPI
I2C
I2S
RMII
UART
SDIO
USB
Programming
Standard JTAG
Other
64Mb FLASH
Data rate 11 Mb/s, 54 Mb/s, 65 Mb/s
BGA ball for high speed connections on bottom
Castelleted edge vias for main connections
SMD module
Software
Cypress WICED® Studio WICED (Wireless Connectivity for Embedded Devices) is a comprehensive software development kit (SDK) that works with PCBM-1GC module. The new WICED® Studio is the only SDK for IoT that combines Wi-Fi and Bluetooth® into a single integrated development environment. It integrates support for multiple wireless technologies and required protocols which, in turn, simplifies the process of implementing connectivity to leading cloud services such as Amazon Web Services, IBM Bluemix, Microsoft Azure, and Alibaba Cloud. Products developed with WICED are largely able to communicate, exchange data, and use information with other devices throughout various IoT systems.
Services offered by FAE Technology
Custom design and production of electronics
Custom software development
Custom creation of the box
Contact our PA Team